2. Pick-up - Depot Direct

Depot direct pick-ups are very popular because they are usually a good, cost effective way to avoid having to pay the additional costs, associated with home deliveries or having to travel long distances to get to the closest factory outlet.
There are currently 150+ depot outlets across Australia, so chances are we have one close to you! We are expanding the depot outlets all the time to cater for the growing needs of our customers in all corners of Australia.
Just put all your flat packs into your on-line quote and then select your depot outlet. This will give you the best possible depot price instantly, (as the price is worked out by total weight and distance from the manufacturing factory).
The more you buy, the more economical the depot price will be for you, however if your job is a very small one (say only a couple of cabinets), sometimes it will actually be more cost effective to get it home delivered. This is because freight companies are very cost competitive on small, light weight packages for home deliveries (as they can use smaller trucks), whilst the depots have to incorporate depot holding/storage fees. The good news is that you can simply alternate between the depot and pick-up options, to find the option that best suits you.
To get a quick idea of where all the depots and factories are located, please click here:
The red flags indicate a depot or factory outlet. For a more detailed list, please visit the 'Locations' tab at the top of the page, as they are all listed there.

Note:
Flat Packs can be quite large and heavy, so in most cases they will all be packaged in a box(es) (depending on the size of the order). Therefore, the method of transport from the depot to your home (or site address), will need to be one that the depot's forkllift driver can simply load with their forkllift directly onto, for example:
Ute (with drop down tray sides to create a flat bed)

Flat bed Trailer

Flat bed truck
So please ensure that your transport method that you will be using will suit this, as the depots don't do hand loading due to OH&S regulatuions.
Common Question: Why is pick up not free?
Pick-up is free provided you have selected a Factory Outlet, as this is where the cabinetry is made. If you are not close enough to a Factory Outlet, then your job needs to be packaged (a special custom made box is required to be made) and on-freighted (via a national freight company) to a Depot, so that you can pick it up from there. There are direct costs involved in doing this. Freighting a flat pack is not like posting a DVD or book as the weight is considerably higher, and we are unable to use Australia Post - We have to use national freight companies.

The cost of the Depot pick-up is dependent on the weight, distance from the Factory Outlet and the Depot type selected - see below for an explanation of the different Depot types. We do however, heavily subsidise all our freighting costs as we want your business (we actually freight at a loss to do this).
Types of Depots:
There are 2 types of Depots that we offer:
Depot-1 - Factory to freight companies associated with the depot
Depot-2 - Factory to main depot and then to a satellite depot
The cheapest option is to select Depot-1, as this is classed as 'Factory to Depot direct', however given that Australia is so vast, it is not possible to have 'Factory to Depot direct' in every point of Australia.
The 'Factory to main depot and then to a satellite depot' (Depot-2), requires another freight Company to on-freight the job to the satellite depot. Whilst this is usually a little more expensive, these 'satellite' depots are often located in rural Australia. They provide a very cost-effective method of Depot pick-up, when compared to Home Delivery or if you have to travel vast distances to pick-up the package yourself.
Tip: If you have to choose between a Depot-1 and Depot-2, the Depot-1 will usually be a more cost effective solution. Better still, if you are close enough to the Factory Outlet, you can pick-up from there for free (so select the factory Outlet option to save money). Sometimes it is worth the savings to travel a bit extra to a Depot-1 or a Factory Outlet and pick-up from there (either way the choice is yours).
General Packing Information:
The components will normally be packed into a fork-liftable box(es), ready for our freight company to pickup from the manufacturing factory, and deliver it to the depot outlet.
A typical kitchen has 300+ individual parts plus the hardware, so it is important to keep the flat packs safe and secure. This is why (for medium to large jobs), we make a solid box (as this reduces the risk of possible freight company/courier damage). We also try to use only 1 box wherever possible, as this reduces the chance of the freight company only supplying the depot with an incomplete order, because they have temporarily misplaced the other box.
A total flat pack can weigh anywhere from 40kg to 1+ tonne (depending on the size of the order). If the package is small enough, it will be bundled, wrapped & shipped as a normal parcel, as this is often more economical to send via our home delivery service (in option 5). Given that an average base cabinet weighs around 42kg, and a flat-pack kitchen weighs between 700kg and a tonne, this does not happen often.
Process:
You will be notified as soon as the job is finished and ready to leave the factory. Once final payment has been received (cleared), it will be marked 'ready for dispatch' and the freight company will be organised to pick it up. You will then be sent all the freight company's details, consignment note, box size(es) and weight(s), etc, so you can 'track and trace' your job in real-time on-line. Once it reaches the depot, you will be notified that it is ready for you to pick it up.
The depot outlets allow a 5 working day window for you to pick your job up, (as they can't afford to have jobs lying around in their depots for weeks on end). If the job hasn't been picked up after the 5 day period, the depot outlets may charge you a storage fee for each week that you delay picking it up.
The depot outlet will assist you in getting the flat pack box onto your awaiting FLATBED trailer/ute using their fork lift. Please ensure that whatever method of transport you decide to use, it is forklift friendly. Otherwise you will need to remove the lid from the box manually with a battery drill, and hand un-load the box into your awaiting mode of transport. Once the box is loaded, tie it down securely and if it's raining you will need to bring a tarp. Once home, you can un-load it at your leisure.
Note: Your job will be packaged as best we can at our end. The box will be supplied undamaged from the factory to the transport driver. If the truck driver notices any damage on the shipment packaging, they will not accept it (as they may be held liable when it reaches the other end). So rest assured that when it leaves us, it is in the best possible condition. A good way to tell if goods have been mishandled during transport, is by looking at the box at the depot outlet, and checking for any external damage. Sometimes if there is external damage, there could also be some minor internal damage as well. If you do notice this, please take a picture(s) as this may help later on in the event of a claim being made.
Our freighted flat packs are the best packaged of all the flat pack suppliers, because our goal is to get it to you in one piece and undamaged.
NOTE: There is an option to take out freight insurance. You can enter the estimated amount that you want to insure it for, but this is not mandatory and is entirely up to you.
For more information on all the possible Pick-up and Delivery options, please click here.
We hope that this information has been helpful for you.
If you need further help or more information on this topic please:

Thank you,
From all the team at OzFlatPacks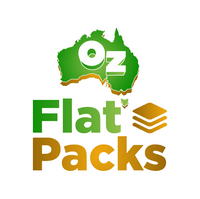 Example of Australian Depots & Factories

Pick-up via Ute with Drop down sides

Job boxed at Depot -Ready for Pick-up