3. Customer Organise Freight

We can also box the flat pack, so you can organise your own freight company to pick-up from the factory direct and deliver to your home. This is not that common, but it is an option that we provide. We only charge for the actual making of the box (materials + labour), as no freighting is required by us.
Should you wish to organise your own freight transport company (at your expense), you are more than welcome to. We strongly recommend however, that you take out freight insurance to cover any damage that your freight company may cause (as accidents can happen).
Current Factory outlets:
ACT - MITCHELL 2911

VIC - TULLAMARINE 3043

VIC - KILSYTH 3137

VIC - WARRNAMBOOL 3280

QLD - NOOSAVILLE 4566

SA - GOOLWA 5214

The components will be packed into a fork-liftable box(es), ready for the freight company to pickup from the factory. A typical kitchen has 300+ individual parts plus the hardware.
After pick-up from the factory, the box(es) may pass through several different depots/hands, and sometimes even changed to another (local) carrier for final delivery. There is not one single company in Australia that delivers to every corner of Australia solely by themselves. For this reason, the packing of the flat packs needs to be the best that it can be, which is why we make a solid box (to reduce the risk of possible freight company/courier damage). We also try to use only 1 box wherever possible, as this reduces the chance of the courier only supplying you with part of the order, because they have temporarily misplaced the other part.
A total flat pack can weight anywhere from 40kg to 1+ tonne (depending on the size of the order). If the package is small enough, then it will be bundled, wrapped and shipped as a normal parcel, but given that an average base cabinet weighs around 42kg, this does not happen often. It is not uncommon for a flat-pack kitchen to weigh between 700kg and a tonne. The box itself will also weigh between 40 - 80 kg (depending on the total size of the box required).
Many customers opt to have the flat packs delivered to their work address (so long as there is a fork lift available), because it's more convenient for them. From there they can 'strip' the box at their leisure and transport the parts to their home (using a work vehicle or trailer, etc). This is also cheaper, as the cost of a tail-lift truck for the final destination is not required. If it's a home delivery however, in most cases a tail-lift truck is required for the final destination delivery, which adds to the cost.
You will be notified when your order is ready to go in the factory, and once final payment has been made and cleared, it will be marked 'ready for dispatch'. You will then be sent the final freight sizes and estimated weight(s). When the box arrives, you will typically need a battery drill to remove the screws that attach the lid, and then manually unload the flat pack items to your home.
Note: Your job will be packaged as best we can at our end. The box will be supplied undamaged from the factory, and the transport driver will see this when it is loaded on to the truck. If the truck driver notices any damage on the shipment packaging, they will not accept it (as they may be held liable when it reaches the other end). So rest assured that when it leaves us, it is in the best possible condition. A good way to tell if goods have been mishandled during transport, is by looking at the package when it arrives, and check for any external damage. Often if there is external damage, there may also be some internal damage as well. A good idea when using your own freight company is to have a camera ready, in the off-chance that they have actually damaged the box in transit, (then you have proof of this if/when making any claims). Our freighted flat packs are the best packaged of all the flat pack suppliers, because our goal is for you to get it in one piece and undamaged.
Here are some of the variables that effect freight costs:
Number of cabinets and their total weight.

Size of some of the components - package sizes under 2000mm are normally not a problem, but those over 2400mm may be more difficult to off-load (unless a local forklift is available), as the freight is difficult to get out from the rear of a truck.

Local or Interstate delivery - interstate is naturally more costly.

Number of trans shipments involved - each increases the cost (along with the possibility of damage).

Main route or far removed - there are very large cost differences between shipments to main city centres and those to places off the main transport routes.

Cost of freight logistics (cost of trucks, depots, wages, OH&S, etc).

'Weekly' changes in freight cost depending on the cost of fuel at the time.
For more information on Pick-up/Delivery options, please click here.
We hope that this information has been helpful for you.
If you need further help or more information on this topic please:

Thank you,
From all the team at OzFlatPacks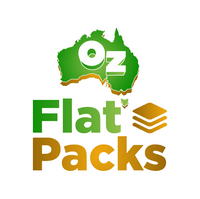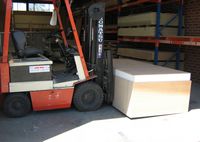 Job Packed and Box -Ready for On-Freighting