Example selection of colours available

Example Masions Mitre -Joined

Bench Top Substrate
Laminate Bench Top Ordering Tips
The over-hang of the bench top is normally 20mm past the front of the cabinet, for example: If the cabinet over-all depth (inc door) was to be 580mm (this is quite standard), then the bench top would normally be 600mm in depth (also referred to as 'Width').
As a general rule, a benchtop along a wall should be around 600 to 650 mm in depth — Any deeper and it becomes too far to reach comfortably. If one person usually prepares the food it should be a minimum of 600 mm long however 900 mm is better. If two people generally prepare food side-by-side the length should be 1200 to 1500 mm.
Heights:
A kitchen or laundry bench top height should be between 850mm (min) to 1050mm (max), with the common height is 900mm (or 930mm). A desk height would normally be 720mm high.
Another way is to simply take the height 100 - 150mm below your flexed elbow for the best ergonomic posture, but you also may want to consider re-sale value down the track, so having a bench top too low or too high maybe a draw back when selling and perhaps a more standard approach would make selling easier.
Wheelchair Access:
For wheelchair access the height should be between 830 to 870mm, with a depth of around 600mm and allowance should be made also for easy access of the knees underneath sink, cooktop and preparation areas. It is recommended to allow a knee height of 650mm, with an overhang depth for the bench top of 200mm.
Reaches to highest and lowest shelf also need special consideration, depending on mobility and body dimensions; these can be measured separately.
Handy Hints:
Warm dark colors will make the room appear smaller.

Light pastel colors will make the room appear larger.

Bright laminate color's will liven up a room, yet date quicker than neutral colours.

Neutral laminate color's will simplify the look of a room.

The amount of light in the room will affect the color of the laminate, so a good tip is to check the sample laminate in the morning light, during the day and at night, as the colour will change depending what type of day and what time of day it's viewed. Idea: When selecting your laminate check your choice with an independent designer if unsure.

Consider the amount of morning, midday and evening light in the room, for instance does the sun rise towards the room or set towards the room.

Consider the number and type of appliances to be placed on the bench tops when creating your design, ensuring each piece will be able to be placed were you want it to be.

The type of profile you select is paramount, many modern kitchen designs use the 'D' Round (10mm top and bottom profile on a 33mm thick bench top) and some prefer the 'square' look of the Tightform profile (5mm-6mm top and bottom profile on a 38mm thick bench top).

The finish of the laminate will also affect the style of the room, do you want a smooth surface or a slightly ridged surface.

Consider the number of exposed edges on the design? Would you like a profile, a edge strip or perhaps an arc end to complement the design.

The number of colours in any room will define the look of that room. OzFlatPacks.com.au recommends using no more then 5 unique colors in any room.

When selecting were to place joins in your tops (if any) consider were these joins will be, is there a sink or garbage disposal unit that might hinder the installation process.
Building Code of Australia rules:
The Building Code of Australia rules that unless otherwise specified, the bench top should be provided with additional support where:
Bench tops are required to span more than 600mm between supports, or

Cantilever more than 300mm from a support.
Joins in the bench top:
Ideally any joins should be kept away from the holes in the bench where sinks or taps are being installed (called cutouts).

Laminate bench tops have to be joined together when the underlying cabinets change direction. The joined bench tops are usually glued together (combined with a silicone seal along the top and front edge) and then fastened with bench top connectors (hidden underneath the bench top).

Joins must be thoroughly sealed to prevent food and waste from getting in. This is for hygiene reasons, and will help to prevent bacteria growth and keep the structural integrity of the substrate material intact. Top joins must be sealed with a waterproof sealant, typically a clear silicone is recommended here.

When either an L-Shape or U-Shape bench top is ordered from OzFlatPacks.com.au then this automatically comes with the required joints machined and ready to fit.
The type of joins that are used for a laminated bench top include:
Masons Mitre: Joining tops together at a 90 degree angle (comprising of a Male and Female Mitre)

Angled Mitre: Joining tops together at varying angles.

Butt Join: Joining two lengths of top together one longer length of bench top (straight run).
For laminate bench top 'fact sheet 101', click here.
For care and maintenance information about Laminate bench tops, click here.
For more technical information about Laminate, click here.
We hope that this information has been helpful for you.
If you need further help or more information on this topic please:

Thank you,
From all the team at OzFlatPacks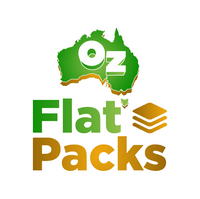 Example Masions Mitre

Example Bench Top Joint Preperation