Laminate Door Example


Laminate Doors and Panels: Fact Sheet
Laminate (also known as 'Melamine') is the most economical door and panel material available today, due to it's durability, availability, vast choice of colours and low cost. It is currently enjoying a big resurgence now that a larger range of sheen, texture and gloss finishes are available and as there is a greater trend toward more minimal cabinetry designs, featuring lots of flat surfaces with square edges.
Laminate Doors and Panels are suitable for use in all areas of high humidity (such as kitchen cupboard doors, bathroom vanities and laundry cupboards), but it is also extensively used for bedroom wardrobes, shelving, wall panelling and all domestic/commercial furniture applications. It is not recommended for exterior use however, or as a splash back surface behind gas cook tops.
Melamine is actually a low pressure laminate coating, but most people refer to melamine as 'laminate', so to keep with tradition we will do the same. It is manufactured from layers of paper, with a decorative paper providing the colour/pattern and an overlay providing durable properties. It is pre-coated on both sides of the board (in the same colour) and is considered a good environmental choice, with all decorative papers free of elemental chlorine.
The laminate is bonded to a substrate board such as moisture resistant medium density fibreboard (MR MDF), or high moisture resistant particle board (HMR PB). The standard thickness is 16mm, however 18mm is available at an extra cost.
Advantages of Laminate:
The most cost effective Door and Panel material available today.

Comes in hundreds of colour possibilities, ranging from solid colours, abstract patterns to printed wood grains.

Hard-wearing & practical material.

Easily cleanable surface - Low maintenance.

Heat & stain resistant.

Great durability & impact-resistant for long-life.

Faster turn-around time for manufacture (lowest lead-time).

Comes as a finished product (no additional finishing required, like say painting or varnishing).

A very popular material choice for the budget conscious renovator, who also wants a long-life, low maintenance, durable product.
Dispelling the Myths:
Laminate is plastic – laminate is made from layers of paper and is not plastic. The paper is reinforced with thermosetting resins.

Laminate is not durable – laminate is very durable for interior applications and meets all Australian standards. Laminate doors and panels that are maintained and cared for will last many decades.

Laminate doesn't look like wood – digital printing has allowed even greater print clarity and realistic wood grain patterns to be printed onto paper, that are then manufactured into laminate.
Resistance to Wear:
Solid Colors - Typical results >700 cycles.

Prints and Wood grains - Typical results >150 cycles.

Resistance to Steam - No noticeable permeability effects.
Formaldehyde Emissions:
All Laminated Doors and Panels are manufactured to comply with the low formaldehyde emission level E1, as defined in the Australian Standard AS/NZS 1859.
These levels are well below the workplace exposure limit set by the National Occupational Health and Safety Commission.
Most Laminate Doors and Panels are now at E0 levels (no formaldehyde emission), however there are still some at the E1 level, but these are shortly being converted to E0. Note: Even E1 levels are very low levels, unlike some imported doors and panels from China that have levels 20 times higher than E1, but are still being allowed to be sold in Australia.
Moisture Resistance:
All our Laminate Doors and Panels comply with moisture resistance properties as specified in AS/NZS 1859.2.
Edging:
The edgings around Doors and Panels are a very important aspect and this is why we use a 1mm solid colour throughout ABS edging. This edging is not the same as the old 'iron-on' edging used originally, which would go brittle and chip and would not withstand the daily 'knocks and bumps'.
The joins between the laminate and the ABS edging is slightly discernible from the front and back of the board (as it is a transition from one material to another). The colour of the ABS edging is not always a 100% perfect match to the Laminated board, as they are made from 2 different materials. There may be some slight colour differentiation, but because we use the 1mm thick edge (over the 2mm thick edge), this is greatly reduced.
The ABS 1mm edge has many benefits and here are some of them:
Impact Resistant - as it's a 1mm ABS edge and not a paper thin melamine edge, it is very durable.

Solid Colour throughout - as it's been profiled, the colour is consistent.

Doesn't go brittle over time - so it doesn't chip!

1mm thickness gives the edge a modern clean line - as opposed to the older bulkier looking 2mm edge.

High Dimensional Stability - designed for long life.

Resistant to common household cleaning agents, weak acids and alkalies - however, strong acids, aromatic hydrocarbons, esters and ketones will all attack ABS, so don't use these to clean the doors.
Designing With Laminate:
It is important to remember that when choosing a colour or texture, certain textures appear more scratch-resistant than others. For example, gloss finishes show scratches more easily than natural or velour finishes. The more texture a surface has, the more it will resist scratching, as textures can actually "interrupt" a scratch. Also, consider that certain colours and patterns minimize the appearance of normal wear. Scratches are less visible on light colours than on dark colours and general wear and stains are less visible on patterns than on solid colours.
Always choose laminate under lighting conditions that match that of the final installation. While great care is taken in quality control of paper (colours and prints) used in laminate production, some colours may have a metamerism.
Finish options include (this many vary from supplier to supplier):
Natural or Velour - A slightly textured finish with a moderate reflective quality. This is the standard finish on most laminates.

Gloss - A finish with a mirror sheen finish.

High Gloss - A finish with a high mirror sheen finish.

Wood grain - An embossed printed finish with the look of real wood.
But doesn't Laminate chip?:
Traditionally, Laminate Doors and Panels would chip, not because of the laminate board itself, but because of the edge treatment applied. Back then, ABS edging wasn't available and the only edging was the old 'iron on' melamine edging, that were very thin and brittle and so were subject to a higher possibility of chipping. Since the introduction of the ABS edge, the Laminated Door has seen a strong resurgence in popularity, as it is not only a very cost effective door style, but is also now very, very durable.
More information needed?:
We hope that this information has been helpful for you.
If you need further help or more information on this topic please:

Thank you,
From all the team at OzFlatPacks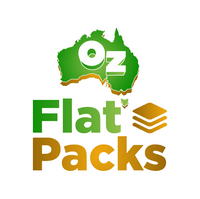 Laminate 1mm ABS Eding Detail Example

Laminate 2mm ABS Eding Detail Example

Laminate 2mm ABS Eding Detail Example

Laminate MDF Board Process