WHITE Wardrobe Inserts (Internals with NO solid backs)
Wardrobe inserts (internals) are installed in a pre-existing space or a new space that you are building. There are many different combinations that can be created, depending upon your needs and space available.
Q. How do I order CORNER wardrobe inserts?
A. To specify a 90 degree L-Shape corner configuration, go here:
How do I add SLIDING DOORS?
A. To get quoting on new sliding doors, go here:
NOTE: 'White' HMR particle board with 1mm durable ABS edging is the standard colour only for wardrobe internals. If you prefer to have the inserts in an alternative solid colour, pattern, woodgrain or gloss finish we can price this for you but it will be a lot more costly (at least 2.25+ times higher, depending upon the colour selection). For more information on why a coloured wardrobe insert is more expensive, please see below:

White Internals - Cost Savings Advantages:
White board is the stock colour for cabinetry internals and bought in bulk, muliple pack quantities which means we get it at a lower price and we able to pass this cost saving on to you.

White board sheet sizes are larger and as such optimises the robe parts better, meaning less material wastage.

When using white board, we are also able to batch other jobs into the optimisation of the sheets to achieve (on average) less than 8% wastage per sheet - which is extremely good for custom orders. This reduced wastage means we can pass these savings on to you.
Coloured Internals - Extra Costs Outlined:

A custom colour needs to be ordered in specially for the your order. First we need to calculate the correct quantity of boards and rolls of ABS edging required to complete the job, the square metre price of the material alone is on average 225+% more expensive than whiteboard. In addition, the board suppliers all charge a 'logistics' fee per order.

The factory manufacturing costs are higher and the machining time is longer as we are adding another coloured material to the job cycle and manufacturing smaller sheet sizes per cycle.

The optimisation of coloured boards for wardrobe inserts is poor, thus the wastage percentage is high because: A) The sheet sizes are smaller (only 2400mm long), B) We can only optimisie one job for this colour (we can not batch other jobs in). C):

As robes are typically 1800 / 2000mm high, it wastes 400 / 600mm per length of board. Also, the widths are typically around 450mm and so we can only get 2x vertical blades per board with a wastage of 300mm per width of board. So roughly speaking the wastage alone is around 30-35% on average per sheet and this all gets factored into the final

sale price for the robes.
So as you can see, there is not just one factor that increases the cost when wanting the internals out of a coloured material, there are quite a few and when added together they do add up. However, if you really want the internals made from something other than white laminate, we can do this- just put in the colour that you want in the 'Special Request' box and we can get back to you with a revised quote.

Note: Corner shelves are unable to be made from colour material, so as long as your design doesn't have corner shelves, we can do this.

To get quoting on your inserts, go to the home page and go to the grey menu bar Cabinets -Individual / Wardrobe Cabinetry / Wardrobe Inserts.
We hope that this information has been helpful for you.
If you need further help or more information on this topic please:

Thank you,
From all the team at OzFlatPacks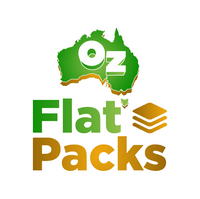 ---

Home Page -Wardrobe Inserts

Example Ideas

Example Ideas

Home Page -Sliding Doors

Example Ideas

Example Ideas