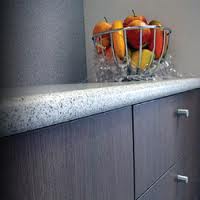 Laminated Benchtop
Laminated Bench Tops (Custom Sized)
Our Laminate bench tops are custom sized to your measurements and easy to order and install.

See this video on how to add a laminate bench top to your order:
See below for some Frequently Asked Bench Top Questions:
Q. The bench top I require is 4000mm long, why won't your quote form allow me to enter this measurement?
A. If the length bench top you desire exceeds a laminate sheet size (3550mm) then you will need to ADD a single length bench top and you would select the butt joining option. Note: The sum of the overall length must equal the length you desire (e.g 4000mm long) made up of 2 bench tops butt joined together (you determine these 2 lengths by where you would like the join). Please see this video:
Q. What is the difference between a 'D' round edge profile and 'tightform' edge profile?
A. It relates to the tightness of the radius of the edge. See here for more information:
Q. What is the difference between a Masons Mitre and a Butt join?
A. When you need to lengthen a bench top you use a Butt join and when there is a change of direction (i.e 'L' shape top) you use a Masons Mitre or Angled Join. Explained in this link
Q. Can you supply the bench top with the cut-outs done for my sink and cook top?
A. No, sorry cut-outs are completed by you out on-site.
Additional Laminate Bench Top Information:
The colour range includes all the popular laminate colours from all the leading laminate suppliers.
Our bench tops are 33mm thick HMR (High Moisture Resistant) Particleboard. Note: 'Tightform' bench tops are only available in 38mm thick.
This High Moisture Resistant board is suitable for use in areas where occassional wetting may occur as well as in areas of high humidity. The moisture resistant resin repels water giving the board a reduced response when subject to wetting when compared to standard particleboard.
Note: Laminate bench tops are suitable for use in bathroom vanities, kitchens and laundries.
Note: All our bench tops are supplied with the joints already machined in and all joining bolts required for quick assembly - unlike the likes of some of the large international hardware chains who only sell you blank strips and somehow expect you to do this yourself!
To view 'Hints and Tips' on ordering bench tops, click here
To view technical information on laminates, click here
To view the Laminate Fact Sheet -101, click here
For care and maintenance of your laminated bench top, click here
We hope that this information has been helpful for you.
If you need further help or more information on this topic please:

Thank you,
From all the team at OzFlatPacks